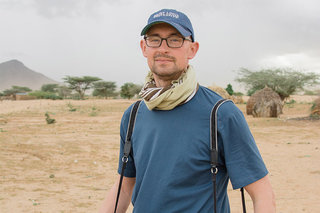 Erik in Turkana, Kenya, June 2016. Photo courtesy
Carlotta Cisternas
Hello, and welcome. Thank you for reading. I am a professional photographer documenting the mission and relief work around the world for the Lutheran Church—Missouri Synod.
Before serving the Church, I worked as staff photographer at the St. Louis Post-Dispatch, The Palm Beach Post in West Palm Beach, and The Stuart News in Stuart, Fla. Pictures of the Year International, Joop Swart Masterclass of World Press Photo, the Southern Short Course in Photography, the Atlanta Photojournalism Seminar, the Florida Press Club, the Society of Professional Journalists and others have recognized my work.
Thank you again for visiting.
Erik